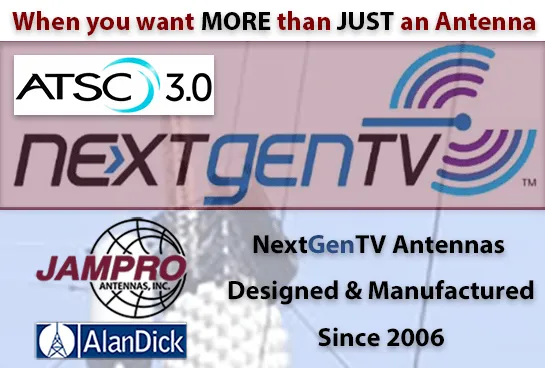 For transitioning to ATSC 3.0, Jampro Antennas currently manufactures terrestrial FCC DTV transmission systems. Existing clients may also need to transition from ATSC-1.0 to ATSC-3.0. Some have already started this significant move.
The Jampro legacy goes back to 1954. It now also includes the AlanDick Broadcast product line based in the UK. These products descend from major European institutions. They have the BBC, EMI, and also the world's largest broadcast network operator, Arqiva.
Multiple global applications already follow both the DVB-T and DVB-T2 standards. ATSC-3.0 has adopted many of the DVB-T2 standards and parameters. These allow Jampro's experience to match and indeed enhance the future requirements of the ATSC 3.0 standard.
Furthermore, Jampro has recently implemented the world's largest broadcast Single Frequency Network (SFN) in Singapore with over 200 sites. They utilize DVB-T2 technology for their many UHF DTV channels.
We have also installed many prominent towers/masts. These include high power (TTHP) multichannel networks. Included is the CN Tower in Toronto, Canada. This installation occurred over 40 years ago.
Moreover, the implementation of Single Frequency Networks (SFN) will majorly influence the rollout of ATSC-3.0. Jampro can already demonstrate these systems to be actively in operation.
Finally, a bi-directional PLP application within a Single Frequency Network (SFN) nodes and devices hold significant promise. This is for a new revenue application. Jampro already promotes and ships systems for the ATSC-3.0 standard.
Media Contact:
Name: Sonia Del Castillo
Title: Sales/Marketing Administrator
Phone: +1 916 383 1177
Email:
Please click here to Contact us. We look forward to hearing from you.