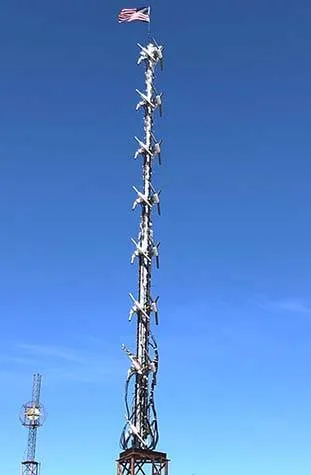 KUHF/KUHT in Houston Texas have awarded Jampro Antennas / AlanDick Broadcast a major antenna contract. This is to supply and install both new FM and TV antennas.
This contract includes the AlanDick ADB-VHF-II-8 high-power elliptically polarized, (EPOL) lambda antenna. This product will deliver a directional signal for the KUHF FM station that will serve the Houston market.

This top mount array appears in the associated image. It also includes 2,200 ft of 6" PROLINE rigid transmission line.
Additionally, Jampro's JCPD-10/4 (40) elliptically polarized (EPOL) TV antenna will soon start broadcasting. This will also provide directional TV coverage for the Houston market. This design will allow future modifications to the azimuth pattern for KUHT.
Elliptically better at PBS Houston
Previously, since 1978, KUHT have been using a Jampro/Cetec Channel 8 Circular Polarization (CPOL) antenna. This antenna provided 42 years of good and stable service.
AlanDick broadcast Ltd. (ADBL) is the oldest antenna company in the UK and is also one of the oldest in Europe. Its roots derive from both the BBC and EMI. ADBL is a subsidiary of North America's oldest antenna manufacturer, Jampro Antennas Inc. based in Sacramento California in the USA.
Media Contact:
Name: Sonia Del Castillo
Title: Sales/Marketing Administrator
Phone: +1 916 383 1177
Email: