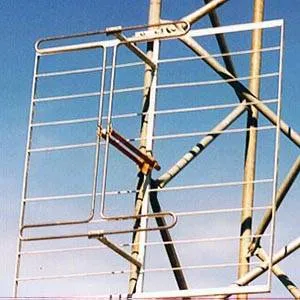 The Jampro Horizontal Dual Dipole Flat Panel Antenna. The JHD-HR2 design is for high-band VHF TV channels.
Also, the Galvanized Steel panel construction & stainless steel dipole ensures years of dependable performance. Moreover, the JHD antenna has a proven excellent bandwidth. It includes a typical VSWR of <1.05:1 on the carrier and <1.1:1 across the channel.
Also, many standards and custom directional patterns are available to fit any of your coverage requirements.
Horizontal Dual Dipole Flat Panel Antenna Features:
Also, designed for high band VHF (Ch 7-13) band III (174-230 MHZ).
Typical single-channel VSWR <1.1:1 on the channel.
Omni-directional or custom directional patterns.
Hot dipped galvanized steel construction.
Stainless Steel Dipoles.
Custom mounting brackets are available for easy installation.
Single panel gain of 7.5 dBd is at mid-band 8.0 dB Gain at the high end of band III.
Finally, for more information and pricing, please call the Jampro team. Alternatively, please leave a message via the Contact Us page. We will get back to you as soon as possible.
Download