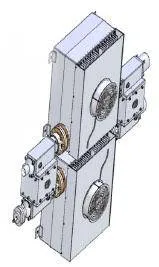 Jampro's UHF Mask Filter Combiner 5KW provides a constant impedance for DVB-T/T2, ISDB-T. It offers outstanding performance in a very compact design. Also, the RCCC-301-1UMB combiner module and filter provide excellent results. This product is for the bandpass and channel combining applications and delivering mask filtering.
Furthermore, electrical and mechanical performance testing ensures strict adherence to Jampro standards. Also, the optimized combiner design assures space where it's at a premium.
UHF 470-860 MHz.
Up to 5kW average per Channel.
Rugged High-Quality Design.
Constant Impedance (Balance Type).
Integrated DTV Mask Filtering.
UHF Mask Filter Combiner 5KW from Jampro
Finally, for more information, please call the Jampro team. Alternatively, please go to the Contact us page, and during weekends and public holidays, leave a message. We will respond to you as soon as possible.
Download
RCCC-301-1UMB-Literature.pdf