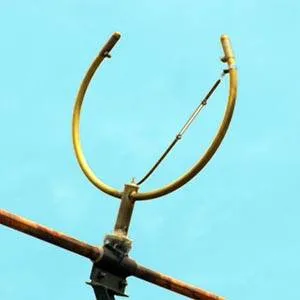 Our FM Horizontally Polarized Antennas provide a very flexible antenna. They consist of a "Ring Series" side mount dipole with a rigid coaxial feed system. Furthermore, the construction is of durable non-corrosive brass and copper. Associated brackets and hardware manufactured with stainless steel or hot-dipped galvanized steel provide many years of dependable and uninterrupted service.
Designed for Low, Medium, and High Power rating use.
Excellent "HD Radio" Performance.
Superior VSWR Bandwidth Horizontally Polarized.
Available for 87.5 – 108 MHz.
DC Ground at each bay for lightning protection.
Optional Radomes available for JMHP (shown) & JHHP.
FCC Directionalization is available.
The JLHP is cable fed and will handle a maximum input power of 1 kW. The JMHP is fed with a 1-5/8" Interbay line and will handle a maximum input power of 10 kW. Furthermore, the JHHP horizontal ring array has a 3-1/8" Interbay feed system. It features a safe input power rating of up to 40 kW.
FM Horizontally Polarized Antennas deliver excellent performance
Furthermore, Jampro's JMHP/JHHP arrays assembly and factory-tuned will occur in our factory and on the Jampro Test Range. We will also carry out tests on a similar tower structure to that of the customers. This will also ensure a proper impedance match and achieve a minimum VSWR. The JLHP can ship as a field tunable LPFM / Booster / Translator antenna.
We can optionally take Azimuth pattern circularity measurements on Jampro's 7,000 square ft. open field test range. We will also determine the mounting structure's effect on the antenna field pattern. Custom directional patterns and reduced RFR arrays are also available.
Finally, for more information, please call the Jampro team. Alternatively, if outside of normal working hours or a public holiday, please leave a message via the Contact us page. We will respond to you as soon as possible.
Download
JLHP - Literature