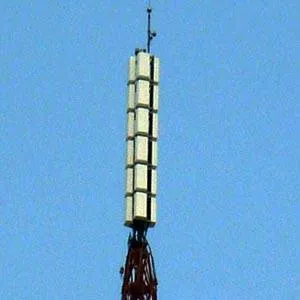 Introducing the JUHD/JUVD Horizontal/Vertically Polarized Broadband UHF Panel Antenna. Designed for dual/individual inputs for both horizontal or vertical polarization.
It also allows for varying levels of polarization split and pattern performance. The JUHD/ JUVD model's design and performance focus on digital/analog TV and mobile videos.
Features of HPol/VPol Broadband UHF Panel Antenna
DTV, ISDB-T, DVB-T, DVB-T2, Analog, NTSC & PAL.
It also includes UHF bands IV & V.
High power ratings.
Broadband multiple channel operation.
Flexible panel placement for custom patterns.
Optional mounting spine for top mount configuration.
Durable and rugged stainless steel construction.
It also includes Fiberglass radome protection.
The use of corrosion-resistant stainless steel with an aluminum reflecting panel is especially relevant because this provides long-lasting durability. Moreover, wind speed capacity calculations ensure the complete safety of the antennas.
Besides, the JUVD antenna is based on a modular design. It is configurable for both azimuth and elevation patterns. Also, Beam Tilt and Null Fill deliver an elevation pattern designed for maximized coverage.
Typical Broadband UHF Panel Antenna Specification:
Polarization: Vertical (JUVD) Horizontal (JUHD).
Frequency Range: 470-860 MHz.
Impedance: 50 ohms.
VSWR: 1.1:1.
Surface: 4.8 Sq.Ft / 1.46m.
Power Rating: 2.5KW per Panel.
Finally, for more information, please call the Jampro team. Alternatively, please leave a message via the Contact us page, and we will respond to you as soon as possible.
Downloads