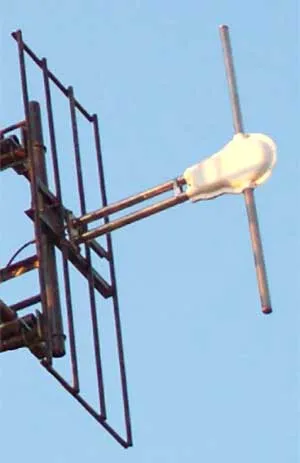 The Jampro JFVX is a High Gain Vertical Dipole Antenna offering a Broadband Solution. Besides, each element consists of a balun fed dipole. It also features high gain and low downward radiation.
Moreover, the lightweight design combines with a stainless steel dipole. Its rugged galvanized steel reflector assures years of dependable performance, even in even the harshest environments.
Also, the JFVX antenna has an excellent proven bandwidth, pattern stability, and high gain. Additionally, the flexible dipole spacing allows for custom directional patterns to fit any of your coverage requirements.
Features of High Gain Vertical Dipole Antenna
Vertically Polarized Broadband.
Single Element: Gain 3.7 dB FM band II (87.5-108 MHz).
Non-corrosive, stainless steel dipole, hot-dipped galvanized steel & copper construction.
Custom directional patterns available with a pressurized feed system & dipole.
Custom mounting brackets & radomes available on request.
Finally, for more information, please call the Jampro team.  Alternatively, if outside normal business hours or during the national holidays, please leave a message via the Contact us page. We will respond to you as soon as possible.
Download