Jampro Company Profile
The Jampro company profile explains our achievements since 1954. It also confirms that we are the oldest Antenna company in North America that has continually manufactured antennas since 1954. 
Jampro's goal back in 1954 was to answer the need for quality broadcast antenna systems. However, a reasonable price remains today's focus. As a leading supplier of antennas, combiners/filters, and RF components, we cover all product requirements that follow an FM/TV transmitter output.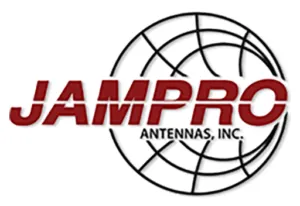 The Oldest Antenna Manufacturer in North America.
Consistent performance and quality have been paramount from the first system delivered in 1954 to those installed today. Jampro's focus remains on solid engineering and reliability. This critical commitment remains in force today. All our products receive the care and attention required, which has built our 68-year reputation as a world leader.
Today, more than 35,000 broadcasters worldwide benefit from the quality and performance of Jampro Systems. We provide prompt delivery of all our products with an average of 30-45 days for standard systems. Please let us know your requirements. We will look to meet your exact shipping needs.
Furthermore, our 24/7 emergency service assures you of a speedy response to all your needs. Our extensive inventory ensures orders can ship on the same day. This service also reduces your off-air time and eliminates the cost of tower crews on standby.
Global Experience:
The experienced staff at Jampro manufacture the products. Many of our team have been with the company for more than 30 years. They have also developed stringent Quality Control checks, testing standards, and inspection procedures. No Jampro product leaves our factory without passing all the defined tests and inspections. Our long history in manufacturing broadcast equipment allows us to stay competitive while delivering the highest quality equipment.
Factory Technicians:
Furthermore, our factory technicians lead our Field Service Department and have been with us for over ten years. They have the knowledge and practical hands-on experience to solve any problem while in the field. Technicians joining Jampro go through extensive training. Eventually, the goal is to reach the level of experience and confidence necessary to represent our company in the field globally.
Product Support:
Moreover, field services provided by Jampro include final installation inspections and the re-tuning of antennas, filters, and combiners. The repair of any Jampro product, complete systems inspections, and analysis are also available. Jampro's proximity to international airports ensures site technicians can visit your site rapidly in an emergency. Finally, while we have personnel based in the USA, we also have teams in the UK, Canada, Mexico, and Thailand.
For more product information and a proposal, please call us now. Alternatively, please go to our Contact us page. Leave a message, and we will be in touch as soon as possible.