FM Catalog
Jampro is the oldest and most experienced broadcast antenna company in North America. With over 68 years of experience supplying complete turnkey broadcast systems.
The catalogs provide solutions for FM radio and specifically Low Power FM (LPFM). Our portfolio includes a range of antennas providing Vertical, Circular, Elliptical, and Horizontally polarized solutions.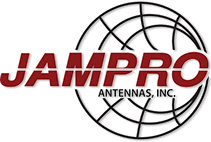 Depending on the power handling requirements, we also supply all feeder cable requirements from 0.5″ to 6″ feeders. Essentially, we provide everything required past the transmitter's output, whether FM or TV. This includes Combiners and Bandpass, and Mask Filters.Please download the relevant FM catalogs available for download below.
TV Catalog
We have specialized in TV Antenna solutions for many years. We offer panel antennas and the latest SLOT antennas that overcome problems with a tower where the weight of the antennas or strength of the tower is limited. The SLOT antennas will replace the traditional panel. Supported TV standards include ATSC, DVB-T2, and ISDB-T.
Rigid Line Catalog
Jampro has an extensive catalog of Rigid Line components. We can ship rapidly and often get parts to you overnight. Please check out the catalog to obtain part numbers and images of the product.
RF Catalog
We manufacture many of our RF catalog products. Please download and review our extensive product portfolio. They will provide you with a detailed overview of the product line. There is also a manageable reference/part number system for placing your orders.
If you also need help selecting a product or wish to place an order, please call us. Alternatively, when out of hours or on a national holiday, please use our Contact us page to leave a message. We will be back in touch as soon as possible.