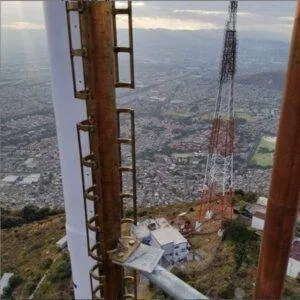 Grupo Radio Centro choose Jampro for new TV channel on UHF frequency channel 28. "La Octava" is a new virtual channel operating on channel 8.1. The network covers Mexico City and the metropolitan area which has a population of more than 22 million people.
This system consists of a JA/MS-24 PROSTAR high power broadband EPOL UHF antenna system. It includes an 8-port patch panel and a 3dB hybrid combiner. The slot antenna selection was due to its low weight. Additionally, slot antennas provide a lower wind loading compared to panel versions.
Additionally, the customer required a solution which would not overstress the tower or require substantial investment in reinforcement.
For more information about why Grupo Radio Centro choose Jampro for a new TV channel, please contact us. Leave a message via our Contact us page and we will respond to you ASAP.