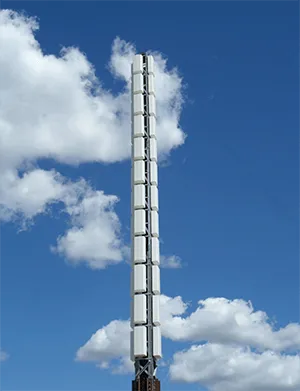 Jampro Antennas offers a complete range of UHF TV Broadcast Antennas, which form a base infrastructure for TV Broadcasters.
Jampro's services provide extensive system design, field testing, including installation, commissioning & training.  Moreover, we provide broadcast maintenance services plus background support, both initially and in the longer term.
We also provide an exhaustive range of TV antennas for the UHF bands IV/V. Products are also available in both DMB and ATSC 3.0 modulation. Please call us for more details.
Furthermore, we specialize in horizontal, vertical, elliptical, and circularly polarized antennas. Should you require details about specific radiation patterns, we are here to help. In fact, we can fully test the radiation pattern before your antenna being shipped.
Delivering the ultimate in UHF TV Broadcast Antennas!
Jampro's Antennas are fully customizable in terms of fulfilling our client's requirements. Customization of gain, patterns, and power levels are available. The optimized construction and mechanical/electrical design allow you to expect a long and efficient working life. This is even in the harshest conditions.
Newsletter Subscription – Stay informed!
Finally, please sign up for our periodic informative newsletter for more information on UHF TV Broadcast Antennas and much more. We will let you know about our latest deals. Moreover, you can expect techniques for improving your antenna's radiation pattern and coverage. Please do not worry about SPAM! The newsletters will be infrequent, but we will advise about the broadcast trade shows we intend to exhibit at. Also, at the bottom of every email, you can unsubscribe at any time. Please enter your email address at the top of the right-hand column.
If you need help designing your radiation pattern, please call us now! Alternatively, please leave a message via our contact us page. We will then get back to you as soon as possible.
For more information on UHF Broadcast Antennas, please call the Jampro team now. Alternatively, please leave a message via the Contact us page. We will respond to you as soon as possible.