The Jampro RCCC-3F1-AUM UHF Constant Impedance DVB-T/T2, ISDB-T, DTV Mask-Filter Combiner module provides outstanding, compact design performance.
Also, the combiner module and filter provide excellent results for the bandpass and channel combining application and mask filtering.
DTV Mask Filter Combiner from Jampro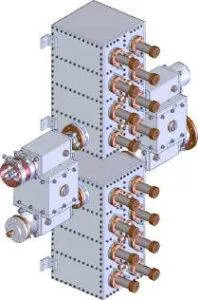 Moreover, electrical and mechanical performance testing ensures strict adherence to Jampro's superior level of quality. Also, combiner design focuses on applications where size concerns are at a premium.
Frequency: UHF 470-860 MHz
Up to 1.0kW average per Channel
Rugged High-Quality Design
Constant Impedance (Balance Type)
Integrated DTV Mask Filtering
For more information about the RCCC-3F1-AUM, please contact Jampro sales via the phone or our contact us page.  Professional assistance is available to you so you can complete your project cost-effectively.
Downloads
DTV Mask Filter Combiner